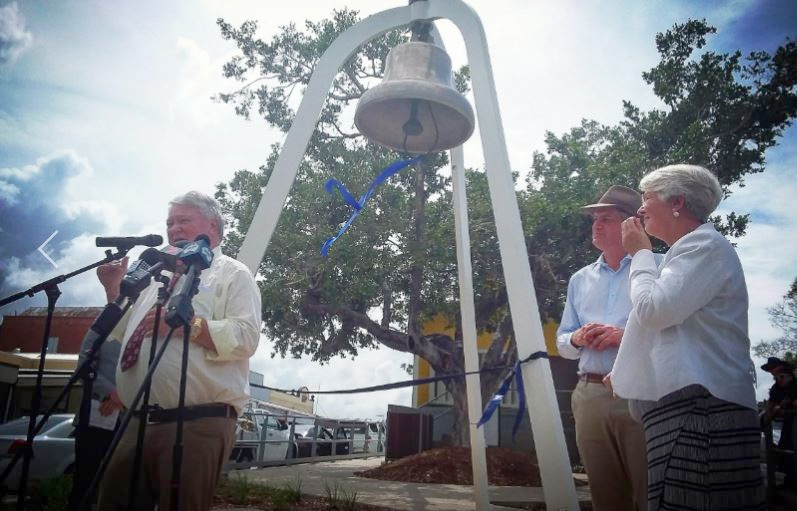 Furphy Foundry and the Queensland township of Mount Morgan were both founded in the late 1800s, so it seems fitting that Furphy products are prominent additions to the recent $2.4 million upgrade to the gold mining town's streetscape.
The project, which was officially opened by Rockhampton Mayor Margaret Strelow earlier this year, features increased green spaces, seating areas and improved amenities, all blending historic elements of the gold mining town with modern facilities.
Furphy Foundry supplied five Benches, four Picnic Settings and eight Litter & Recycling Receptacles – all Woodgrove models, and all powder-coated in Windspray.
The seating is all installed under three shelters supplied by Landmark Products.
At the heart of the streetscape is the iconic Mafeking Bell monument (right) which has been restored and set as a centrepiece in the CBD, thanks to $37,000 of funding through the Australian Government's Stronger Communities Program.
Federal Member for Flynn Ken O'Dowd said he was proud of the Australian Government's investment in the tourist attraction.
"The Bell was cast at the Mount Morgan Mine in 1900 to commemorate the Relief of Mafeking during the Boer War, which a number of local residents were involved in," Mr O'Dowd said.
"It was made from pennies donated by local school children at the time. It's that piece of history that gives it such incredible value within the community as an attraction and photo opportunity for general visitors, military, Scouts and history buffs."
The streetscape was jointly funded by the State Government's Works for Queensland Program and the Local Government Grants and Subsidies Program along with the Federal Government's Stronger Communities Program and funding from Rockhampton Regional Council.