Among the fascinators and pageantry of Melbourne Cup Carnival, the Furphy name will this year be prominently displayed at Flemington in the shape of the biggest marquee in the famous Birdcage.
The Furphy Watering Hole will hold 400 racegoers on the big race day, among other corporate pavilion sponsors such as Lexus, Mumm Champaign and AAMI.
The Watering Hole, sponsored by Lion Beer Australia who brew and market Furphy Refreshing Ale, will be designed from floor to ceiling paying homage to the history and legacy of the Furphy group of companies, including Furphy Foundry.
The Furphy water tank story lead the way in the interior design with an original Furphy water cart on display, a floor to ceiling water wall, historical imagery and new limited edition 2018 tank ends covering the walls.
Guests will be taken on a journey throughout the marquee, telling the story of the brand in the form of neon signs, cast metal lettering, laser-cur timber signs, and metal lettering in the timber flooring.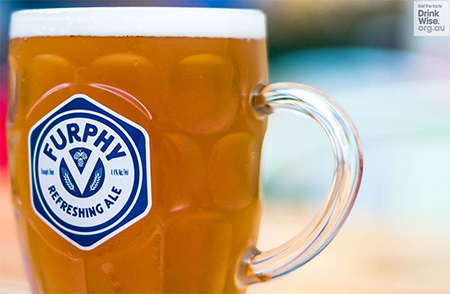 Staying true to love of ale and beer there will be a 10-metre bar spanning the back wall of the marquee, with 13 taps featuring ten beers and one cider. There will also be a secondary bar situated at the back of the deck, with a Furphy tank pouring beer and water, all while enjoying great views of the track.
During the Melbourne Cup Carnival, Furphy will be conducting a silent auction of three tank ends on Derby, Melbourne Cup and Oaks Day within the Furphy Marquee with all proceeds going to Rural Aid Drought Relief.
Furphy Foundry Managing Director, Sam Furphy said the Furphy brand, for so long part of Australian folklore and language, is enjoying a renaissance thanks to the refreshing ale which has become a nationally recognised brand.
"Above all we hope that all racegoers embrace the spirit of Furphy of gathering around with friends to share a beer and tell a good yarn or two," said Sam.
"We are immensely proud of our family history and the fact that we continue to own and operate manufacturing businesses in Shepparton and other parts of Australia. As 5th generation descendants of the company founder John Furphy it is especially pleasing to notice the increased interest in the Furphy story."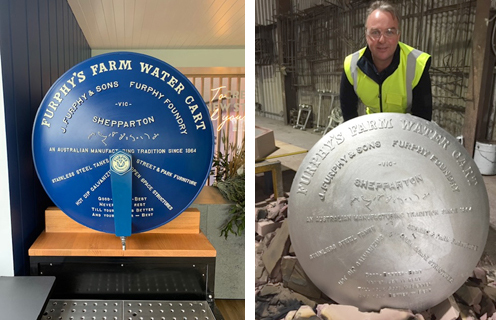 Limited edition Furphy Water Cart tank ends
Due to the increasing interest in the Furphy legacy, Furphy Foundry and J Furphy and Sons have designed and commenced production of a new Furphy Water Cart tank end.
Many of the earlier tank ends contained a curious inscription – often confused to be Arabic – in Pitman's shorthand. The new design continues this tradition with an updated statement to reflect our view of the ongoing importance of gathering with friends to share a yarn or two. It reads: ''Celebrating friendship and tall stories, here's to your story …"